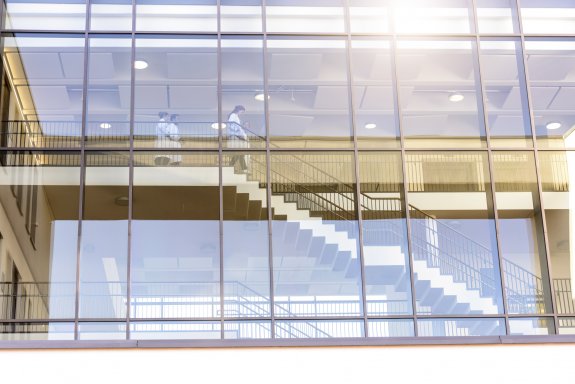 Curlow's convictions: Structural impact of COVID-19 on the office sector
23 November 2020 (7 min read)
---
Office space is constantly evolving in order to adapt to changes in the behaviour of its users and incorporate their needs. The design of workplaces has thus evolved considerably over the last decade, moving from a model of intensive use offices with fully allocated workstations to unallocated workstations complemented by shared space and equipment in order to increase productivity, employee satisfaction and the ability to use office space to attract new talent. As a result, office densities and utilization rates have been steadily declining in recent years.
The onset of the COVID-19 pandemic has accelerated this trend whereby the global office workforce, empowered by vast improvements in technology & connectivity, was increasingly able to adapt to a more agile and flexible work practice. Consultancy and accountancy firms have been at the forefront of adopting to a more flexible, team and project-based approach to the way they organise and ultimately utilise office space. However, with over a decade of experience they are now acknowledging the limitations to aggressive densification strategies initially implemented and have been working on reversing/moderating this trend – due to feedback from their employees/key stakeholders. Lockdowns and work-from-home guidance from a large number of governments have seen most, if not all, organisations trial and adopt some form of remote working in order to remain operational during these challenging times. While the ideal mix of office-based vs home based working post COVID-19 remains to be seen, it is becoming clear that both have their merits and companies are now engaging with their employees to identify and implement their post COVID-19 office occupation strategies.
We expect this to be an additional drag on office demand, thus limiting take-up for the coming 6-12-month period as it will not only take time for companies to understand their particular requirements but also time their implementation with lease expiry or break options. Similar to transport infrastructure design, office tenants will need to plan for peak usage requirements, rather than average usage which may limit the efficiency potential. Furthermore, with an expansion of ESG considerations to include health and wellbeing, we expect there to be a large portion of older existing office stock that will not be able to adapt to these requirements. As a result, we see a smaller subset of existing assets which remain well located for transit requirements, offer the flexible floorplan and requisite building specification to deliver the type of office working environment we expect to be demanded in the future. From an investment perspective, this will require a more stringent assessment of underlying building characteristics and systems for acquiring existing assets and provide an attractive development opportunity to build out the type of office stock required for post-pandemic use. Below we elaborate further on the structural impact COVID-19 is having on offices which will likely impact the office market and our engagement with office buildings in the future.
Talent Retention/Attraction
Office environments have become an essential amenity for businesses to attract and retain talent, with tenants demanding a higher degree of amenity and service provision. Employee's behaviour and increasing focus on improving work-life balance will drive the way offices will be used in the future (Workers, particularly millennials, increasingly demand a positive environment to work and cultivate their careers). With office occupancy costs representing only 12% of employment costs it makes financial sense for businesses to focus on employee satisfaction rather than seek to optimize real estate occupancy costs. As a result, HR has joined the decision-making process with a strong voice in real estate decisions preferring high quality buildings in central locations in order to deepen the potential labour pool. Talent pools are also widening thanks to COVID-19 given a higher tolerance on commuting times due to fewer commutes; however, talent is still expected to concentrate around key urban hubs where top knowledge-based job prospects are strongest. 
Remote Working
COVID-19 has forced an accelerated trial of remote working by most industries and companies revealing its advantages (better work-life balance, cost savings) and flaws (lack of collaboration/social interaction/corporate identity/culture and talent development). While there is high uncertainty around the best mix of remote working and physical presence; most companies are targeting a model of around 40% remote working time (highly dependent on industry and experience of the employees) with meetings, collaborative & creative projects office based. It is important to stress that Covid-19 is not creating this trend in employee's behaviour and working preferences as the office experience has been changing for years. Rather, the pandemic is accelerating an ongoing trend with more companies being forced to implement flexible & remote working solutions during lockdowns with the result that most employers and employees have found value in increased remote working flexibility during these trial periods. No doubt this more widespread usage of remote working has been facilitated by improvements in technology and high speed broadband availability; however, practical limitations to the extent of remote working have clearly been identified due to its adverse impact on talent recruitment and development, cross team collaboration and solidifying a strong corporate culture and brand identity. All of these dynamics are critical to the successful running of a corporate enterprise over the long-term but nearly impossible to be fostered from a purely remote workforce basis.
Ultimate degree of remote working will impact office markets but at differing rates depending upon: 

Cultural differences
Rent affordability
Current rate of remote working, which varies widely by market and industry  
Commuting times (related to house prices, public transport links, etc.)
Accessibility (public transport, car, cycle – as a result of the pandemic employees might try and avoid crowded situations for the foreseeable future) 

Remote working trend will be a long-term headwind for net absorption and office occupation 
Increase in remote working and the threat of reduction in overall office occupation could increase landlords' concerns and give more power to tenants, as such landlords may be more willing to offer and occupiers more able to negotiate better rental terms using the counter of a reduction in office requirements 
Densification
Over the last decade new leases have focused on higher quality office space while reducing the overall floorspace per worker. Global accountancy and consultancy firms led the way as their team/project based workstreams facilitated a more flexible approach to office utilization. However, even before COVID-19 these pioneering firms were already starting to see the disadvantages of very dense offices as employee feedback and talent retention became a rising concern. While the overall market is rapidly catching up to this more dynamic approach to office usage it does not automatically lead to space reduction. Desk ratios are likely to decline, but de-densification of desk space along with more break-out, meeting and project based workspace should counterbalance this trend as the office function shifts towards being a primary facilitator of employee interaction and engagement, communal areas become more important. Furthermore, future office layouts will need to be designed to cater towards peak usage – as transit infrastructure does – rather than average usage which is where there is most scope for space consolidation on paper.

Desk sharing and ratios of less than one desk per employee are now common in new developments. The rationale behind this shift is threefold: collaboration, employee experience and cost/ROI (i.e. productivity).
While this trend may slow in the short and medium term due to social distancing measures requiring greater floorspace, the structural trend towards smaller office space requirements is likely to accelerate over the long-term as part of the shift in occupier behaviour.  
Office Function/Utilisation
As more office based use is focused on collaboration, knowledge share and team/project based workstreams a fundamental rethink of layout allowing for more breakout & meeting areas – at the expense of desk ratios – along with increased flexibility is expected to be in demand post COVID-19. Technology facilitated a shift to a more agile/hybrid workforce; as a result, the structure and purpose of the office has been changing: front offices increasingly function as "flagships" for corporates with the main focus on client contact and employees interaction. The "network of places" is very dependent on accessibility by public transport. The key role of "flagship" offices in the future is to be a meeting facilitator to enable knowledge-based workers a space to come together, innovate and create in whatever industry they work in. Over the medium to long-term this should continue to be centred in well-connected central business districts of the top key cities around the world where the strongest job markets, highly educated population base, culturally diverse and rich amenity bases attract the top talent.

Offices act as communal space for employees to meet, discuss, interact, socialise and feel part of a community and play an important role for employees wellbeing. 
While employees do like to work from home, less than 20% of workers want to work remotely on a full-time basis (source: YouGov survey issued by Barclays and Gensler Work from the Home survey, May 2020). It will be interesting to see how employer/employee attitudes are reflected in the next round of surveys on remote working.
In particular for new joiners the presence in the office is critical (on-the-job-training), which will require the presence of seniors and juniors at the same time in the office 

A meaningful shift in occupier demand is expected in relation to building infrastructure and layouts. We believe demand will gravitate toward modern office buildings offering more flexible layouts, shared communal spaces and amenities all of which are powered and supported by advanced technological solutions around building management. This approach can better foster and support end user requirements for flexibility, environmental, sustainability, health and wellness initiatives, and offer the employees who work in these offices a better overall experience. Therefore, reduced demand for lower-quality assets over the longer term seems likely to add an increased level of obsolescence into current office stock.

For occupiers and investors, themselves, the challenge of managing office utilisation comes back to 'operational focus'. We expect to continue to see growing demand for shorter leases, more swing space and  a merging of the business models of WeWork and corporates. As occupiers seek to outsource more and more of the management of their space to service providers, we expect the operators of office space to see an increased element of revenue coming from management fees rather than primarily leasing income. This is a continued shift towards the 'office-as-a-service' business model.
Market Impact & Rising Obsolescence
We expect the changing view of how offices are to be used in a post COVID-19 world to take time. While businesses and their employees ultimately decide what they expect from offices and how they would like their spaces designed we expect leasing decisions to be largely focused on short-term renewals for the coming 6-12 months. Furthermore, excess existing space which can be placed on the sublease market may lead to rising vacancy over the short term. However, the ultimate deferral of leasing decisions is expected to lead to regular lease event rollover and pent up demand which should consummate in 2-3 years' time with a significant level of leasing activity. Whilst we acknowledge the ultimate quantum is unlikely to include a significant amount of positive net absorption we think this demand will be centred on the latest vintage of office developments which are limited in quantity and should provide strong support for prime rental values and support new development. By contrast, older existing stock which occupiers vacate will face a faster obsolescence schedule requiring either significant capital expenditure to remain relevant as an office use or be converted to another land use. 
ESG + H&W (Health & Wellbeing)
Exponential growth in the emphasis of ESG considerations on office occupiers is expected to increasingly incorporate Health and Wellbeing considerations as a result of the COVID-19 pandemic. While ESG has so far become part of corporate identity/branding modern assets that lack a "+ HW" component are increasingly at risk of becoming immediately obsolete as these are prerequisites to make the short list of potential site options. While changing layouts maybe feasible in some existing buildings floorplans the increased air circulation requirement emanating from adding more enclosed meeting areas/breakout facilities combined with stronger filtration may lead to mechanical obsolescence being an issue when ESG+H&W considerations are implemented.